Please visit VIRTUAL Sheet Music for thousands of downloadable PDF scores
J. C. Lockwood Publishing
For your Enjoyment: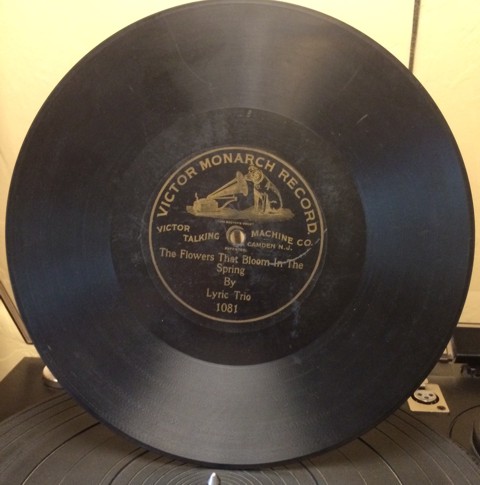 The Victor Monarch Record above is the first appearance of the famous "Nipper" trademark on a Victor record label. January 1902. The recording is "The Flowers that Bloom in the Spring, from THE MIKADO, sung by Lyric Trio - Grace Spencer, Soprano, Harry MacDonough, Tenor and William F. Hooley, Baritone. Click here or on the photo to listen to or download the MP3 file.
We are introducing a catalog of sheet music of new transcriptions for wind instruments. Our initial offerings are woodwind quintets (flute, oboe, clarinet, horn and bassoon). A synthesized audio preview of each composition is offered on this page. (The truth is ALL of our sheet music is currently offered for sale at $0.00; so, go to the online store and "buy" it!)
Here are a couple of tracks that I recently transferred from records by Ernest Lough, boy chorister b. 1911, that I consider treasures. The first is from Mendelssohn's "Elijah." The second, also by Mendelssohn is a hymn for soprano. (These were posted previously but had some speed variations due to a bad turntable belt. The new transfers linked below were made 29 April 2016.) I hope you enjoy listening and/or downloading:
Hear ye, Israel HMV B2627 26 September 1927
Hear My Prayer HMV C1329 30 March 1928
Our site continues to offer MP3 Albums from the former 78s2CD catalog for download. Please visit our and Purchase using any major credit card through PayPal!
We continue to offer items from our 78s2CD catalog as downloads. The entire HMV Acoustic and Electric Series of G&S recordings, including our acclaimed transfer of the 1926 HMV early electric Mikado, are now available internationally as MP3 album downloads. Please note the following:

These 78s2CD items are NOT available as CDs. They are digital downloads.
Customers are responsible for respecting their local copyright laws that may restrict the purchase of these items. We cannot provide guidance in this regard.

Sheet music in Adobe PDF form is now offered for the following compositions:
Updated 03/26/2018.
Copyright © 1997-2010 J. C. Lockwood 78s2CD All Rights Reserved