J. C. Lockwood Publishing
Our online download shop is now closed due to a failure of our store software. Unfortunately, the cost of obtaining professional help to fix the problem is not justified. We're sorry for the inconvenience.
For your Enjoyment: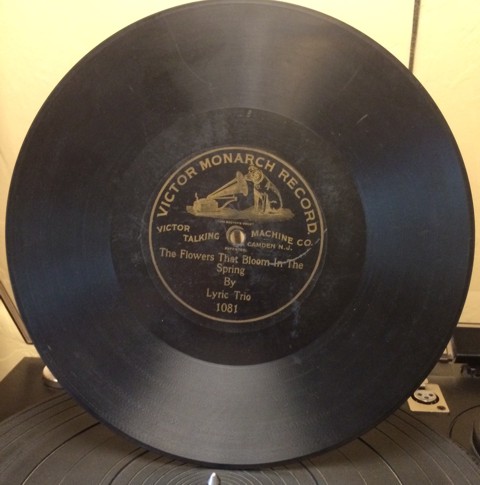 The Victor Monarch Record above is the first appearance of the famous "Nipper" trademark on a Victor record label. January 1902. The recording is "The Flowers that Bloom in the Spring, from THE MIKADO, sung by Lyric Trio - Grace Spencer, Soprano, Harry MacDonough, Tenor and William F. Hooley, Baritone. Click here or on the photo to listen to or download the MP3 file.
Here are a couple of tracks that I recently transferred from records by Ernest Lough, boy chorister b. 1911, that I consider treasures. The first is from Mendelssohn's "Elijah." The second, also by Mendelssohn is a hymn for soprano. (These were posted previously but had some speed variations due to a bad turntable belt. The new transfers linked below were made 29 April 2016.) I hope you enjoy listening and/or downloading:
Hear ye, Israel HMV B2627 26 September 1927
Hear My Prayer HMV C1329 30 March 1928
Updated 01/16/2020.
Copyright © 1997-2010 J. C. Lockwood 78s2CD All Rights Reserved